| | | |
| --- | --- | --- |
| | News | |
A Very Special Announcement:
The greatest challenge that Nitestic could face has arrived......She is called Miranda, weighing in a 4 lbs., 4oz, and and hailing from Hope Mills, NC. Eddie and Kelly celebrate this challenge with open arms and we all wish the best for them. Join me in wishing Eddie and Kelly congratulations on the birth of their new daughter. You can send them a note here.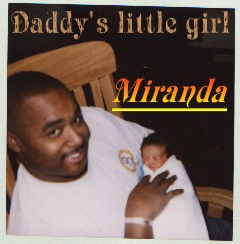 A few words from Nitestic about the tragedy that befell the wrestling community with Owen Hart's death.
"There is not much more to say, than that my condolences and prayers will be
with the entire Hart family as they mourn and attempt to cope with this loss.
Owen Hart gave his life for us fans, and deep, down inside of us, we should
find it within our hearts to show appreciation for Owen's legacy and we must
celebrate his life, something we all take for granted; life.

In closing, in lieu of the terrible tragedy, we must mourn this situation and
attempt to cope with it all. We must not forget that life is so much more
precious and valuable than pro-wrestling, but as they say in this business,
"The show must go on." It must go on, because Owen Hart would want it that
way." Eddie Brown

| | |
| --- | --- |
| Check out The Wrestler. It contains a two page layout talking about NiteStic Eddie Brown. It's on newsstands now, so hurry and get your copy before they run out. | |
Fans, Be sure to check out the May 4th edition of THE WRESTLER. In it will be a feature article about NiteStic and his entry into the sport of wrestling. Check it out, on newsstands soon.
Special Announcement
Be sure to check out hot CAPW action at Methodist College on April 9th, 1999. To be held in the student rec. center on campus. All the top stars of CAPW will be there and maybe a few surprises to boot. Catch all the action and get there early to get a good seat.
March 20, 19999
Congratulations go out to NiteStic Eddie Brown for winning the First ever, CAPW Heavyweight title. He defeated James "Poison" Ivey to win the title in front of an electric crowd in Hope Mills. Also on the card:
Delicious Dino beat Tripp, The Samoan Giant beat Adrenaline, Renegade beat the Blue Knight and in a special grudge match, Timber beat Slash Walker. Also, Shank surprised everyone to win the battle royal granting him a shot at the CAPW title.
March 7-14, 1999
Recently, NiteStic went on a mini tour of New York and New Jersey. We had the chance to talk with him about the trip and have him tell us a few things about it. If you would like to see some pictures of the tour, click here.
I went to charlotte NC to catch a plush tour bus ( WCW boys were on it hrs before). I felt like kiss in concert in the bus. It had 12 bunks and masterbedroom with a TV room upfront. There were 13 wrestlers on the bus and 13hours on the road conversations going on at the same time. Ricky Morton told jokes for the first 5 hours and then he headed to his bunk. If you ever road in a coffin then you know how it felt in the bunks. I felt sick after 2 hours in the thing and had to get out of it. We stopped in W.Va. I got some dramamine for the road and felt better. I guess I am a wuss when it comes to being sick, I hate it. We arrived in NY about 10:00 in the morning. I went straight to my room for a quick nap before heading to Broadway to get a license. We piled up in the bus 30 mins. later heading to upstate NY for a license check-up. I had to get a EKG and a physical filled out for the license. We also got to see where Evander Holyfield and Lennox Lewis get there license physical check-ups.We were there First buddy. I got a chance to see NY first hand and enjoy a DIRTY DOG. For those of you who are single minded that is a hot dog sold onthe corner of the street. That was the best hot dog I ever had. I wrestled SGT. Craig "pitbull" Pitman for the whole tour. I had control of the whole match. I used my nite-stic like I have never used it before. I beat him like he stole something from me. The tide quickly turned when I was hit in the head w/ a chair. I tried to clear my head but by the time I did I was caught in the chest w/ a spear. I forgot what his finish was until he slapped it on me.CODE-RED, CODE-RED I had to either die or submit. I'm still here so you know what I did. I have to say I had fun and learned an awful lot about this sport we call wrestling mentally and physically. I welcome the chance to tangle w/the pitbull, I think I can take him down now.
March 17, 1999
CAPW- Carolina All-Pro Wrestling presents pro-wrestling at
Southview Middle School,Hope Mills NC. Saturday March 20, 1999 Belltime at
3:00 pm
Main Event for the CAPW Heavyweight Title
Poison Ivey vs Nite-Stic
Grudge Match
Timber vs. Slash Walker
March 3,1999
Listen up, my people, I have some news to tell all y'all. I was just informed today by Bill Apter that I will be featured in THE WRESTLER, in the May 4th edition. Make sure to check that out and see how NiteStic is blowing up!!!
Feb. 26, 1999
The Berkley Cafe was throwing out some mad heat Thursday night. I guess that it was a shocker for some but a way of life for the rest of us. I'm still recovering from an ear injury but I couldn't let my boy get jumped like that and not help. Working security is hard enuff but seeing your partner getting cheated out of a win is stupid. I will not let it happen. I got Juice's back and I know that he has mine too. Don't think that I have forgotten about you Chilly, Get Well SOON, Bro. DEATHROW is still in full effect. Back to some business at hand. I watched Poison Ivey and Cham-Pain go at it. Poison, I got you on the 20th and if that is all you got son, this is going to be an easy payday for me. I'm so looking forward to this it is making my blood boil. Poison, I will see you on the 20th in Hope Mills, and HEY, bring your pigs, cause we don't have any down here.
Keep Ya Heads Ringin'