| | | |
| --- | --- | --- |
| | Most Wanted | |
Over the last year, I have wrestled all over the country. In my travels, though, some opponents proved to be alot tougher than others. Granted, on any given day, you might take a loss, but these three guys have proved to give me the hardest matches that I have had to date.
My first choice as toughest opponent has to go to the Iron Shiek.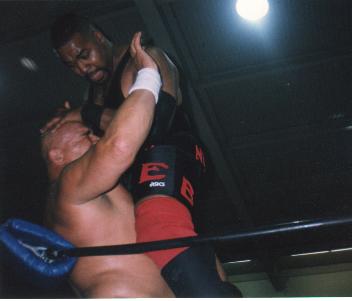 When we fought, there was alot going through my head. For one, he was a former WWF World Heavyweight Champion. That means he made it to the top of this sport. Two, the match was for the NWA Southern States title. And, last, I had to ready myself for this kind of challenge. On that summer night of 1998, I proved that I was ready to hang with the big dawgs as I captured my first title of my career. It was a hard fought match and I took everything that the Sheik had to offer. When it was all said and done, I walked away the winner.
My next toughest opponent would have to be Otto Schawnz. He and I appeared on the scene at roughly the same time and I had my first match against him.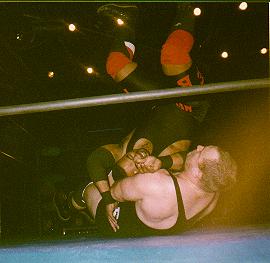 Even though I was victorious against him the first time, the two of us have battled quite a few more times, each gaining the upper hand on the other at different times. You can rest assured that when you see the two of us on a card, fireworks soon follow.
As for my next toughest opponent, That would have to be Juice. This man and I have locked horns plenty of times throughout the summer of 1998 and all we did was kick each others ass. We have had every type of match and this ended with our First Blood match in SCW at the Berkley Cafe in Raleigh, NC. I was the winner that night, but gained a helluva lot of respect for that man. We threw everything, and maybe the kitchen sink, at each other and it was a sight to see. We have a new understanding for each other now, and have joined forces at times to kick ass together.